We are incredibly proud of the achievements of all our students at Enfield Grammar School and continually strive to ensure each boy is able to give 'As much as he can' no matter what his starting point when he joins us.
---
2021 Results – The results days are:
GCSE & Level 2 – Thursday 12th August 2021
A Level & Level 3 – Tuesday 10th August 2021
The government has said that many exams and assessments cannot be held fairly this year
as a result of the disruption students have faced due to the pandemic.
Teachers will instead submit grades to the exam boards, based on their assessment of
what you have shown you know and can do, enabling you to progress to the next stage of
your education, training, or employment.
This guide outlines the arrangements in place for awarding grades in summer 2021, and
where you can go for additional information:-
Student Guide to Awarding: Summer 2021 – GCSEs, AS and A levels, vocational,
technical and other general qualifications
Enfield Grammar School – TAG Centre Policy 2021  (centre policy for determining teacher assessed grades)
---
2020 Results GCSE 
After a testing year, a huge well done and congratulations to all our Year 11s. Headline figures: 
English & Maths pass  85.4%
English pass 94.2%
Maths pass 87.1%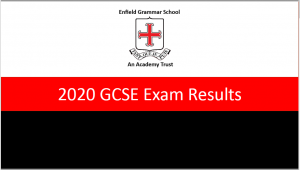 2020 Results Sixth Form – A-Levels & BTEC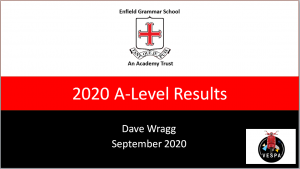 In addition to maintaining our positive value added score for another year (meaning that students who attend Enfield Grammar School make better progress than they would at other schools), we have also maintained our high percentage of A-A* with an 17% of all grades.
40% of grades were graded A*-B
69% of grades were calculated at A*-C with an average point score of 30.63 for A-Level students
Technical qualifications were successfully introduced to Enfield Grammar School with an impressive average point score of 31.67
11 students achieved at least A grades or better in their courses at Enfield Grammar School with many of our students gaining places at top universities and on higher apprenticeship schemes
14 students achieved an individual value added score above plus one, which means that on average, they achieved a grade higher than expected in each of their subjects.
All students have accepted or have been given the option to enter Higher Education, Apprenticeships or the world of work.
The majority of students have accepted courses at their first choice university
---
Progress 8 is a new measure of school performance (Department for Education). It replaces the previous measure of 5A*-C including English and maths, and shows how well pupils of all abilities have progressed, compared to pupils with similar academic starting points in other schools.
EGS is on a journey to reach outstanding.
Current parents and Year 5 parents, please take note and think about the Progress 8 related question below;
Consider carefully; which is the best school?
-School A – 100 students arrive in year 7 all on level 5 in Maths, English & Science – 5 years later students leave with 7s in Maths, English & Science.
-School B – 100 students arrive in year 7 on level 3 in Maths, English & Science – 5 years later students leave with 6s in Maths, English & Science.
-School A reports 100% level 7s in En/Ma/Sci
-School B reports 100% level 6s in En/Ma/Sci
Using ONLY this information which school do you think is best and why?
---
Progress 8 In relation to Enfield Grammar School
Statistics show that boys in 15 of the 22 Enfield schools do not make progress.
EGS boys school is one of the 7 that does. Our boys make positive progress.
---
Parents of Year 5 pupils; did you know?..
– Boys underachieve nationally
– Boys underachieve in the borough of Enfield
NOT at EGS! We buck the trend nationally. We buck the trend in Enfield. Boys make Positive Progress at Enfield Grammar School for Boys.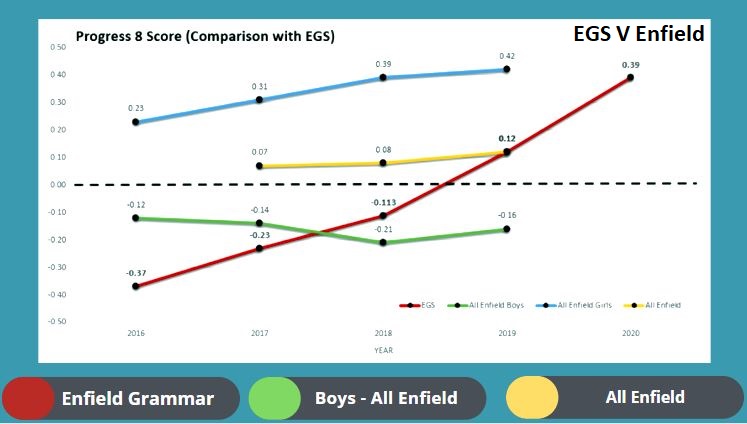 ---
Since 2016 our progress 8 score has been increasing year on year. In 2020 our score was nearly a whole point above the national standard for boys.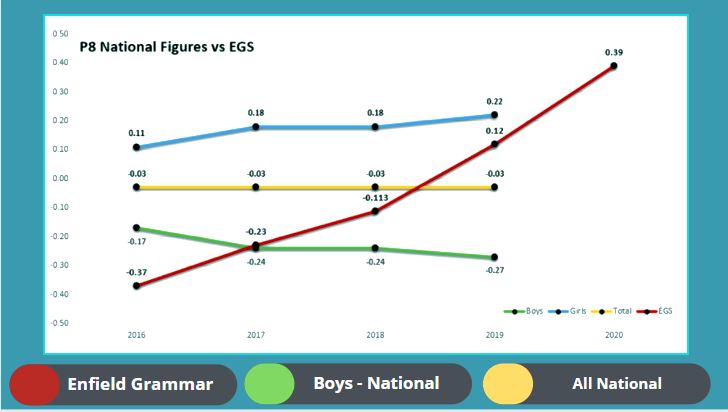 ---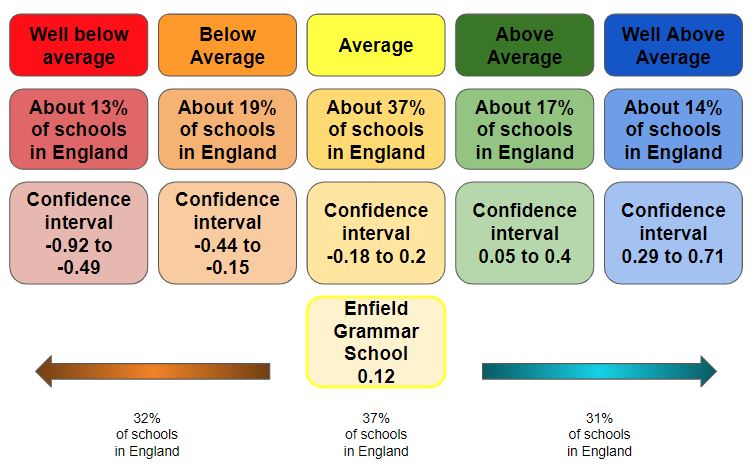 2019 Results
---
2018 Results
---
2017 Results
---
2016 Results