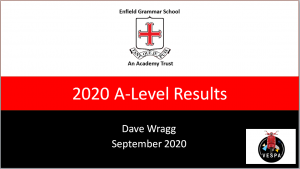 In addition to maintaining our positive value added score for another year (meaning that students who attend Enfield Grammar School make better progress than they would at other schools), we have also maintained our high percentage of A-A* with an 17% of all grades.
40% of grades were graded A*-B
69% of grades were calculated at A*-C with an average point score of 30.63 for A-Level students
Technical qualifications were successfully introduced to Enfield Grammar School with an impressive average point score of 31.67
11 students achieved at least A grades or better in their courses at Enfield Grammar School with many of our students gaining places at top universities and on higher apprenticeship schemes
14 students achieved an individual value added score above plus one, which means that on average, they achieved a grade higher than expected in each of their subjects.
All students have accepted or have been given the option to enter Higher Education, Apprenticeships or the world of work.
The majority of students have accepted courses at their first choice university.
---