Year 13 Mock Exams December 2021
Year 13 Mock Examinations – Tudor Hall – Friday 3 December – Thursday 16 December 2021
It is your (the student) responsibility to find your exams and ensure you are there at the right time.
Please note the start times for the three exam sessions timetabled on each day:
– Session 1 exam starts at 08.45am
– Session 2 exam starts at 10.05am
– Session 3 exam starts at 13.05pm
To read/download the letter from Mr Wragg and Ms Akaydin outlining full details and rules regarding the exams, please click here: Y13 Mock Exams Letter To Students
Click here to download a PDF: Y13 Mock Exams Timetable
All examinations will take place in TUDOR HALL. Full examination conditions will apply at all times whilst in the exam rooms. ECS students will follow the assessment schedule where possible – please discuss with your teachers if you cannot attend an examination.
Students will not be in lessons outside of the exam schedule with the exception of BTEC Business and BTEC Sport lessons which will run as normal for all students when they are not sitting an exam for another subject in the timetabled rooms.
---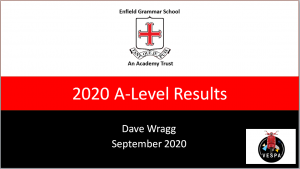 In addition to maintaining our positive value added score for another year (meaning that students who attend Enfield Grammar School make better progress than they would at other schools), we have also maintained our high percentage of A-A* with an 17% of all grades.
40% of grades were graded A*-B
69% of grades were calculated at A*-C with an average point score of 30.63 for A-Level students
Technical qualifications were successfully introduced to Enfield Grammar School with an impressive average point score of 31.67
11 students achieved at least A grades or better in their courses at Enfield Grammar School with many of our students gaining places at top universities and on higher apprenticeship schemes
14 students achieved an individual value added score above plus one, which means that on average, they achieved a grade higher than expected in each of their subjects.
All students have accepted or have been given the option to enter Higher Education, Apprenticeships or the world of work.
The majority of students have accepted courses at their first choice university.
---