Enfield Grammar School offer our students the chance to enrol onto and complete the Bronze and silver awards of the Duke of Edinburgh programme.
Having successfully launched our first cohort of Bronze participants we are continuing this year by offering the Year 11s who completed Bronze last year the chance to complete their Silver and opening up for a new cohort of Year 10 Bronze participants.
Students and parents will be notified via letter and internal school notices.
Our DofE Team are:
Mrs Field – DofE Manager (inc. Expedition Supervisor & Assessor)
Mr Smith – DofE Assistant Manager (inc. Expedition Supervisor & Assessor)
Mr Wragg – Expedition Leader (inc. Expedition Supervisor & Assessor)
Ms Miller – Volunteer Leader (inc. Expedition Supervisor & Assessor)
Mrs Faverjon – SLT Lead
---
Click here for: Parent Information Evening Presentation – September 2023
---
Below are some clips showing our Year 10 students from 2021/22 preparing for and undertaking their Bronze plus Year 11 students undertaking the Silver:
Our Year 10 boys have been learning new skills over the last few months; camping, outdoor cooking, map reading, practice hikes and completing each of the required DofE sections, volunteering, Physical and Skills.
This has all led up to the final part of the award: The Expedition, hiking to their overnight camp and then back again tomorrow.
We are lucky to have such a nice day to set them off on their hikes and wish them all the best. This is a test of endurance, independence, teamwork and a chance to have fun, make great memories and come out with a sense of achievement.
Good Luck Boys!
This was the final section of the DofE Bronze Award that our Year 10s have been participating in since last October.
Several months of volunteering, learning a new skill and taking on a physical activity, combined with preparation sessions in school on navigating, map reading, first aid, outdoor cooking, how to pack a rucksack and 3 practice hikes all led to the final challenge of the expedition.
We are delighted to say that all our boys passed this section!
Having not run the DofE programme in EGS for several years, it has been wonderful to get it up and running again, giving our boys the opportunity of challenging themselves, learning to work as a team and getting a huge sense of achievement.
March 22 Practice Hike:
We recently took our Year 10 DofE participants on their 2nd practice hike out in Lee Valley Country Park.
Separated into 3 groups, the boys followed their maps on a circular route. They did well with no mishaps or extra miles being walked! All had a go at map reading and, overall, had a good time bonding with each other.
They completed 5 1/2 miles in a decent enough time of 2 hours. We shall be moving on to longer and slightly more challenging walks for the next practices.
One obstacle that had to be overcome was a flooded area that needed to be crossed; the debate was: walk through as fast as possible and hope for the best (as Mr Wragg & Mr Smith did!) OR boots and socks off and go barefoot (as Mrs Field & Mrs Miller did) – who do you think had warm comfy feet to finish the walk off !! And the boys…..well there was a mix of soggy and dry trainers 🙂
The DofE Leaders enjoyed it as well;' it's nice to see the boys 'out of the school environment'. Participating in, and delivering the DofE programme is rewarding and an achievement for both staff and students
Year 11 Silver Practice Expedition – September 2022
Looking forward to seeing the Year 11 boys tomorrow and hearing about their DofE Silver Practice Expedition!
A group of our boys who went through the DofE Bronze programme last year in Year 10 have signed up to continue on into the Silver award. This time we're starting with the Expedition section so, on Friday, they went off  to the Surrey Hills area for their practice session.
The weekend saw a group of our Year 11 pupils undertaking their DofE Silver Award Practice Expedition.
Setting off from school on Friday and heading to the beautiful Surrey Hills, the boys and staff checked into a local YHA hostel where they went over routes, navigation, nutrition, cooking and safety.
Successfully completing a 12-mile route on Saturday gave them the opportunity to put into practice their navigation skills, to experience varying terrain and to appreciate their surroundings. A further 10 mile hike on Sunday finished off the weekend.
The entire group showed great teamwork and progress on the skills necessary to complete their upcoming qualifying expedition in October.
 Mr Wragg and Mr Smith were extremely proud of the boy's achievements and how well the boys conducted themselves over the course of the weekend…. "The boys were an absolute credit to the school and the whole experience was an absolute pleasure to supervise".
Year 11 Silver Qualifying Expedition – October 2022
Our Silver DofE boys went off early yesterday morning with Mr Wragg & Mr Smith to complete their qualifying expedition; 3 days and 2 nights in the Peak District.
Yesterday was a bit wet and cold but they managed 6 hours of hiking and got back to base just before dark.
Today is looking sunnier and warmer for them and they seem to be making good time.
Hope they are enjoying the scenery as well as the experience. Very proud of these boys 🙂
Huge congratulations to Kavin, Richie, Tuan-Raihan, Jasraj and Harrison for successfully completing the DofE Silver Expedition weekend.
On Friday 7th October, our 5 Silver DofE participants set off to the Peak District to complete their Silver Award Expedition of 3 days and 2 nights.
The boys experienced a tough first day, hiking 10 miles from Matlock to their destination, carrying a fully loaded rucksack and enduring many spells of heavy rain. The boys, however, persevered as a team completed their routes over seven hours.
After a good evenings rest, the boys then set of on their second days route. They navigated south following the River Derwent completing, in total, 15 miles over the course of the day. The weather was much kinder on them with beautiful sunshine and sights to take in. The Chatsworth Estate being one of the beautiful backdrops for them to take in.
For their final day of hiking their expedition route, the boys were taken up into the 'Dark Peaks', ascending Mam Tor to the height of 517 metres to take in the breath-taking scenery.  They then following the path along the ridgeline before descending towards the town of Castleton.
Their Silver expedition then cumulating in a further ascent of 250 metres from the town towards the waiting and welcoming view of the school mini bus.
The team did incredibly well over their expedition weekend, despite all the challenges they faced. They worked together and kept each other motivated to complete their routes. The boys should be very proud of their achievement and determination; truly living by the school motto "As much as I can".
Both Mr Smith and Mr Wragg  were extremely proud of the boys and, have really enjoyed the overall experience of spending this time with them throughout this expedition as well as the previous practices and Bronze Expedition back in the summer.
Congratulations to all of our Y10 DofE boys – they were challenged, they survived and they conquered! Hiking several kilometres further that in their practice, all groups made it to the camping area, pitched their tents, cooked their meals and experienced an independent outdoor experience. And we are pleased to say, that the next day, they all made it back in one piece! Now, who's up to take on the challenge of the Silver Award?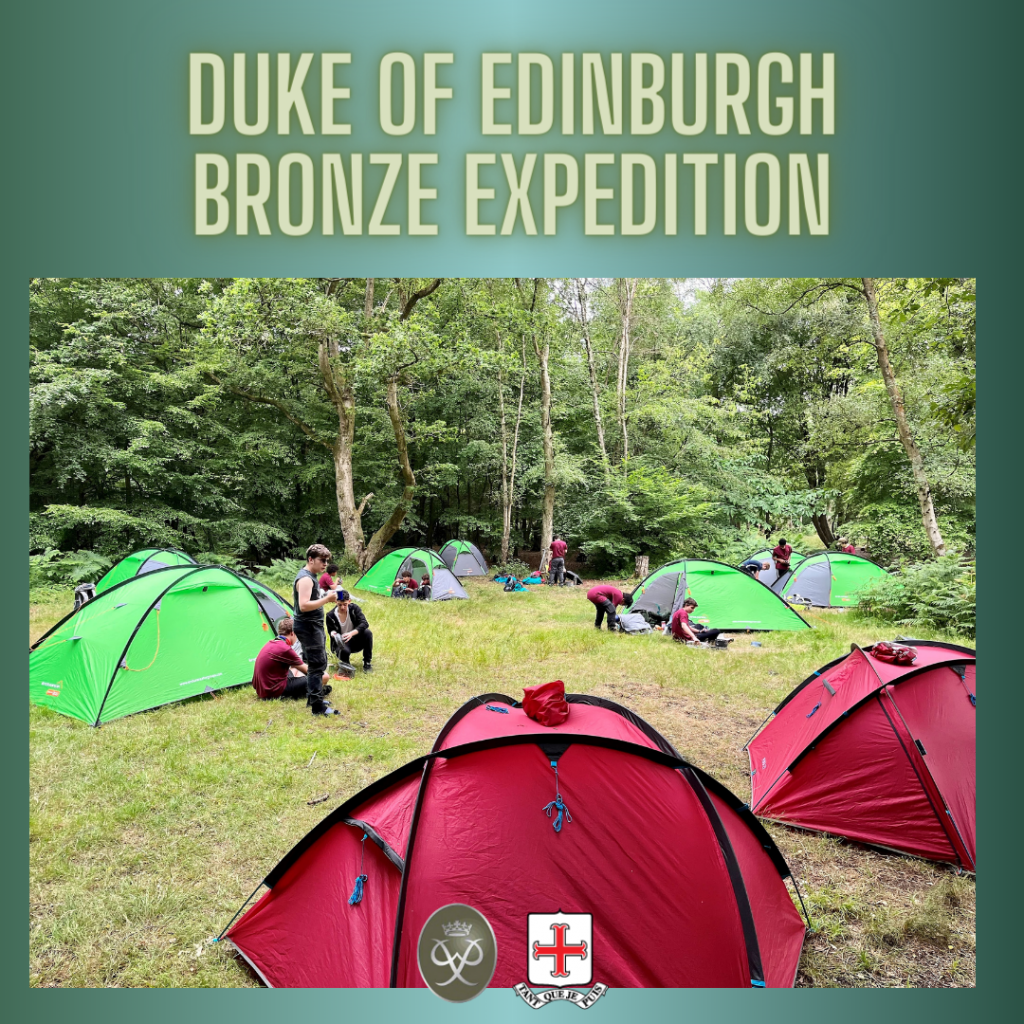 A massive shout out to our Year 10 DofE boys who were all formidable this weekend. Following on from Sports Day on Friday, these boys came out fully loaded to learn all the necessary skills required to complete their Bronze expedition this coming weekend.
Hiking about 12 km from Lower School, learning navigation skills along the way, they arrived at our overnight site in Cuffley where (once rehydrated), they learnt to set up camp, cook on outdoors camping stoves and plan their routes for next week.
We can truly say that these boys did Enfield Grammar School proud with their dedication, motivation and behaviour throughout the weekend, especially in such challenging high temperatures.
We hope you feel proud of yourselves for this achievement and that you enjoyed the experience.
Thank you to the staff who gave up their own time to teach the skills and support the boys.
Now…..(without staff guidance, and hiking to a different site) you've just got to do it all over again this coming weekend!! 😃😜
Well done boys!!
---
Click here for: DofE Parent Information Leaflet and  DofE Participant Information Leaflet 
EGS Bronze Presentation for Parents (click the images below to view)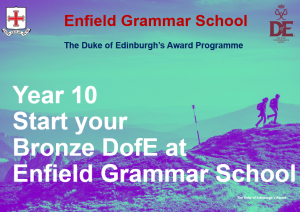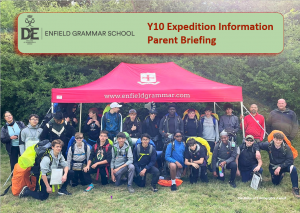 The Duke of Edinburgh Award (commonly abbreviated DofE) is a youth awards programme founded in the United Kingdom in 1956 by Prince Philip, Duke of Edinburgh, that has since expanded to 144 nations. The programme involves helping the community/environment, becoming fitter, developing new skills, planning, training for and completing an expedition and, for Gold only, working with a team on a residential activity. Any young person can do their DofE – regardless of ability, gender, background or location.
For further information, visit: Duke of Edinburgh Awards – DofE