School Meals
A nutritious diet is essential to healthy brain development in children which is vital to good learning. Here at Enfield Grammar School, our kitchen teams, at both Upper and Lower, prepare fresh nutritious meals on site everyday, as well as wholesome snacks.
We have a breakfast club at Lower School, a mid-morning snack option at Upper School and a two course meal deal at lunchtime as well as other grab and go options. A vegetarian option is available during all services. Fruit is also available daily.
Our daily menus are linked to your Parent Pay account on the website so you can see the daily offerings and what has been purchased.
The school works with the best suppliers that meet stringent criteria.
Having good eating habits and a balanced diet supports children's health and well-being. Eating habits developed early in life are likely to have a lifelong influence.
---
Breakfast Club

Lower School
8.00am to 8.30am
Morning Break
Upper School
10.45am to 11.05am
Lunch
Upper & Lower
1.05pm to 2.00pm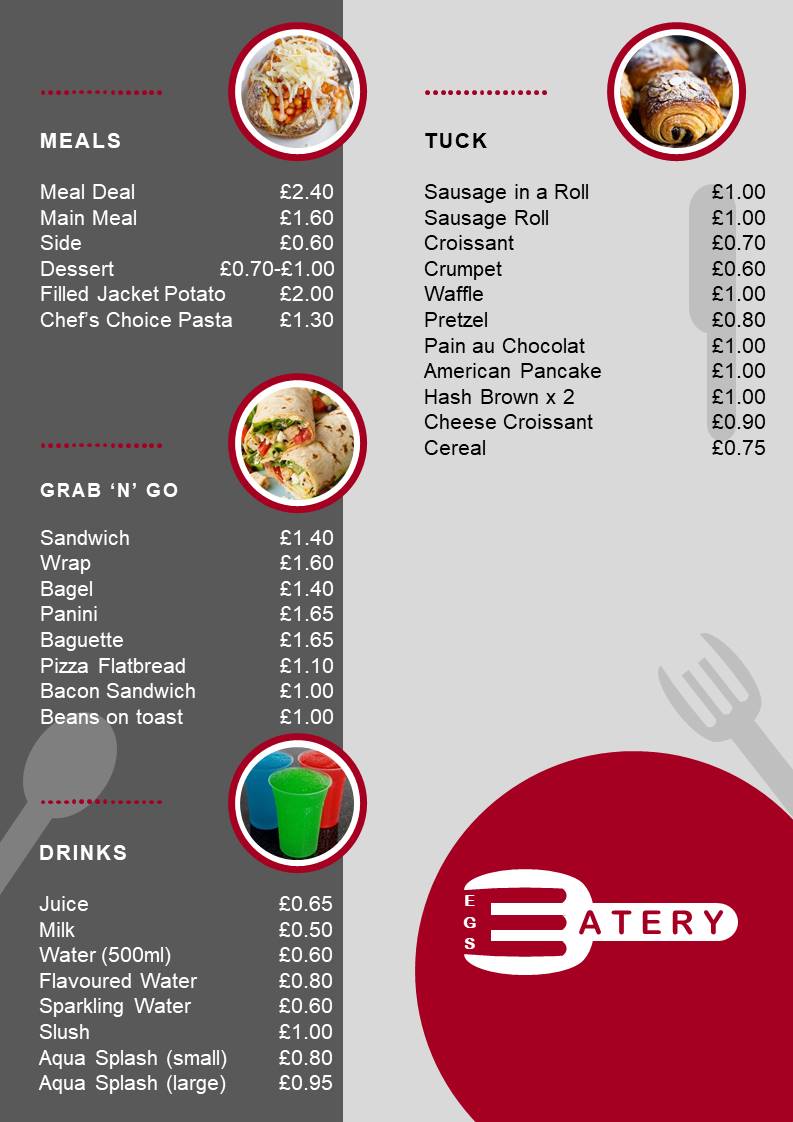 The Breakfast Club takes place daily at the Lower School Canteen from 8am to 8.30am and is open to all students.
Students who are eligible for a Free School Meal will also be eligible to have a have free breakfast at school at our daily Breakfast Club.
The cashless till system offers a safe and convenient way of paying for school meals with use of the student's unique fingerprint. It also alleviates the problems associated with money being lost by reducing the need to carry cash and has reduced queuing times through an increased speed of service.
Parents can add money to the students lunch account online at any time through ParentPay, our online cashless payment system.
By linking ParentPay to our cashless catering system, our students are able to make use of the catering facilities either at break time or lunchtime without having to carry unnecessary amounts of cash into school.
For further details of how the cashless till system works please click here or alternatively, contact the School Finance Office.

---
Free School Meals
If you have any questions about applying for Free School Meals, please contact us on 020 8363 1095