Charity Collections & Fundraisers 2021-2022:
December 2021
Christmas Carols in Enfield Town – EGS students will be setting up a whole band playing to entertain you. Please come over and show your support with a smile and/or a sing-a-long and pop a coin or two into the charity 'bucket' collection! 🙂
Collecting for: Love is Kind (a domestic violence charity) and Shelter.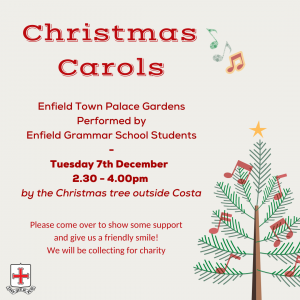 Rainbow Laces – Students can purchase these laces at the Lower School office or from Mr Lamb (w/c 6/12/21)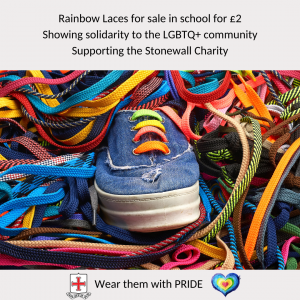 Winter Term 2021
Festive Hampers As a School Community, we're fundraising again this year to enable our staff to shop for, prepare and deliver some lovely food filled hampers that will help members of our Community have a much happier Christmastime. Every little helps 🙂
Thank you in advance for your contribution to this cause.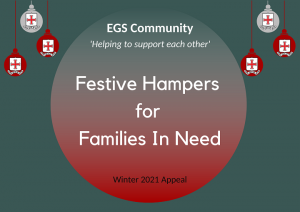 Message from Mr Lamb:
You may recall that last year, as a school, we ran a Christmas Hamper Appeal to help some of our families who, due to the Coronavirus, had suffered hardship and trauma. The Appeal was very successful, and it is for that reason, I would like to run it again this year. I am very aware that some of our families are still feeling the lasting effects of the Coronavirus.
I would again like to call on our Community to get involved in providing hampers for families that need them, to help them through the busy and expensive Christmas period.
If you would like to donate some money to support members of our Community, please follow the link below. I ask that you give generously. The donation page will close on 8 December 2021, to allow us time to purchase, prepare and deliver the hampers.
https://www.gofundme.com/f/EGS-festive-hamper-appeal
Thank you as always for your generosity and support.
If you feel that a food hamper would help you through this challenging time, please email the School at [email protected]  expressing a desire to receive some help from the Enfield Grammar School Community. Your request will be treated sensitively and in the strictest confidence. You will be added to the list and we will endeavour to provide you with a Christmas Hamper.
November 2021
ODD SOCKS DAY – Monday 15th November – Our Anti-Bullying Ambassadors are asking all students and staff to wear odd socks for the day and bring in a £1 donation to go towards running projects learned from the Diana Trust.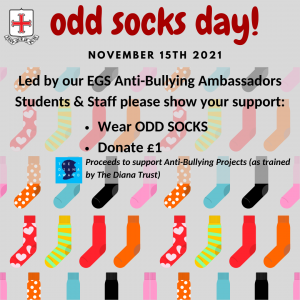 MOUSTACHE DAY– Friday 19th November – In recognition of International Men's Day and Movember the Lower School will be wearing fake moustaches for the day and raising some funds for charity. Make/wear your own but if you haven't got one; fake moustaches can be purchased from the Lower School office on the day for 10p.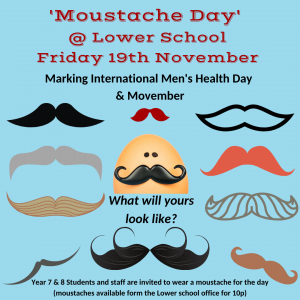 ---
Charity Collections & Fundraisers 2020-2021
---
School Fundraising 
The school is always in need of a little extra help along the way, to aid finance in-school projects, purchasing of extra equipment or to put on special events and trips for the boys. If you do wish to help us, below you will find various easy and simple ways that you can help support our fundraising: