School Fundraising 
The school is always in need of a little extra help along the way, to aid finance in-school projects, purchasing of extra equipment or to put on special events and trips for the boys. If you do wish to help us, below you will find various easy and simple ways that you can help support our fundraising:
---
.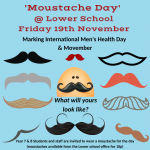 False Moustache Day In support of Movember this month and International Men's Day on Saturday (19th), Lower School are holding a 'wear a moustache' to school day tomorrow, Friday 18th November. Boys can come into Lower School wearing a false moustache or buy one for charity from the LS office for 20p. All other donations towards Movember can be put in the collection box and will be sent to the charity
---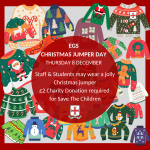 Christmas Jumper Day Staff and students of Enfield Grammar, please join in and support this very worthy cause on Thursday 8 December. Wear a jolly Christmas jumper (in addition to normal school uniform for students – it is not non-uniform day) and make a contribution of £2. This year, for every £2 donated, the UK Government has also promised to give £2 to Save The Children!
---


Christmas Carols Yesterday, our music department and students went 'busking' in Palace Gardens. Despite the freezing cold, icy fingers and blue lips ❄️❄️ we managed to make £144 for the North London Hospice charity. 🎶
---
Coats4Calais Thank you to local community choir group #RVoices who are kindly organising a collection of unwanted coats for the #Coats4Calais charity. We managed to put together 4 large bags of coats from our FEGS (PTA) cupboard that have previously been donated by parents or were left as lost property during the last academic school year. If you would like to know more about this charity or to give a cash or coat donation, please see their website: https://care4calais.org/coats4calais/
---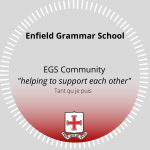 Families in Need Appeal 
As a school community we are committed to supporting our students and their families and so we are launching a fundraising appeal to provide financial assistance to those who are experiencing serious financial hardship due to the economic crisis and the after effects of the Covid-19 pandemic. Our hardship fund, which is supported by local businesses and donations, currently supports students by providing uniform vouchers, contributions to trips, school equipment and study materials. We would like to extend the support we offer our students with additional funds for their families for household essentials such as: Food vouchers, Energy vouchers, Energy efficient household appliances. Each barrier or worry that we can remove for a young person improves their experience at school and helps to support their engagement and learning. Thank you in advance for any donations you are able to give.
---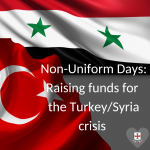 Turkey Syria Crisis Non-School Uniform Days: Raising funds for the Turkey/Syria crisis. We have a number of staff and students who have families that have been affected by the devastating earthquakes. Some of our students have asked if we can help to raise some funds, so we have decided to have TWO non-uniform days THIS week: – Thursday 23rd – Sixth form only – £2 donation from each student that takes part. – Friday 24th – Years 7-11 and Staff – £2 donation from students taking part and £5 from staff. Please help to support if you can.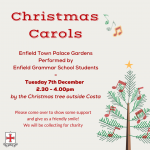 Christmas Carols in Enfield Town EGS students will be setting up a whole band playing to entertain you. Please come over and show your support with a smile and/or a sing-a-long and pop a coin or two into the charity 'bucket' collection! 🙂 Collecting for: Love is Kind (a domestic violence charity) and Shelter.
---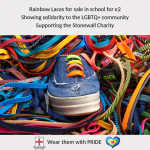 Rainbow Laces  Students can purchase these laces at the Lower School office or from Mr Lamb (w/c 6/12/21)
---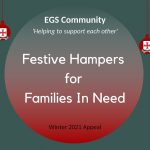 Festive Hampers 
As a School Community, we're fundraising again this year to enable our staff to shop for, prepare and deliver some lovely food filled hampers that will help members of our Community have a much happier Christmastime. Every little helps 🙂 Thank you in advance for your contribution to this cause. Click the link to visit the fundraiser and donate:
www.gofundme.com/f/EGS-festive-hamper-appeal
Message from Mr Lamb:
You may recall that last year, as a school, we ran a Christmas Hamper Appeal to help some of our families who, due to the Coronavirus, had suffered hardship and trauma. The Appeal was very successful, and it is for that reason, I would like to run it again this year. I am very aware that some of our families are still feeling the lasting effects of the Coronavirus.
I would again like to call on our Community to get involved in providing hampers for families that need them, to help them through the busy and expensive Christmas period.
If you would like to donate some money to support members of our Community, please follow the link below. I ask that you give generously. The donation page will close on 8 December 2021, to allow us time to purchase, prepare and deliver the hampers.
https://www.gofundme.com/f/EGS-festive-hamper-appeal
Thank you as always for your generosity and support.
If you feel that a food hamper would help you through this challenging time, please email the School at [email protected]  expressing a desire to receive some help from the Enfield Grammar School Community. Your request will be treated sensitively and in the strictest confidence. You will be added to the list and we will endeavour to provide you with a Christmas Hamper.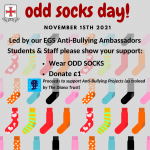 ODD SOCKS DAY – Monday 15th November – Our Anti-Bullying Ambassadors are asking all students and staff to wear odd socks for the day and bring in a £1 donation to go towards running projects learned from the Diana Trust.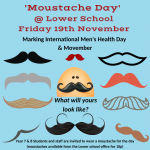 MOUSTACHE DAY Friday 19th November – In recognition of International Men's Day and Movember the Lower School will be wearing fake moustaches for the day and raising some funds for charity. Make/wear your own but if you haven't got one; fake moustaches can be purchased from the Lower School office on the day for 10p. Thank You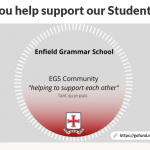 September 2021 The GoFundMe fundraiser for our student has raised a staggering £16,184.
We, the student and his family would like to thank our community for their incredible generosity and kindness. This will help greatly towards the cost of his recovery.
Update July 2021 The GoFundMe page closes at 4pm on Wednesday 14 July 2021, so please share this with all your family and friends. EGS is hoping to have some of our students present the cheque to the family on the last day of term in one of our end of year assemblies
Update June 2021 We thought it was time to share an update with you all with regards to our student who was involved in a dreadful accident in Enfield Town in May:
Although the surgeons did everything they could, they were unable to save the student's leg, and had to amputate below the knee.
Thankfully, he is recovering well and is now at home, but this will be a long road ahead for him, in terms of treatment, physiotherapy etc, including the fitting of a prosthetic limb, to enable him to be more mobile. This, however, will also be an expensive recovery, as, because of his age, and the fact that he is still growing, the prosthetic limbs will need to be changed on a regular basis.
Mrs Brooks and Mr Smith had a lovely visit with our student and he told them how much he wanted to be able to come back to school and join the sixth form, how he is missing his friends and how amazed he is at the kindness and generosity of the community around him – he has read all the comments that have been left on this fundraising page.
His mother is also overwhelmed with all the kindness towards her son. He was also really pleased to receive a treats hamper from our food services staff!
To all of you in our community – thank you.
May 2021 
You will have heard through school letters, local news and on social media about the terrible road traffic accident that recently happened in Enfield Town, involving one of our Year 11 students.
This has left him with life-changing injuries and he is still in hospital.  The School has received many messages of kindness, offering help and support for the student and his family.
This fundraiser has been set up to facilitate the collection of any financial contributions that people wish to make. Following discussions with his family, any monies raised will be shared between the hospital who are taking care of his medical needs, and to cover costs of any ongoing treatment to aid in his recovery. Thank you for your continued support of our Enfield Grammar School community. To donate, please click here: https://gofund.me/1e62f575
---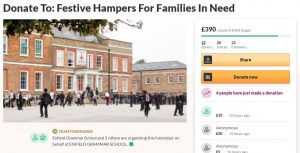 Festive Hampers For Families In Need – £925 raised
Update – Thursday 3rd December 2020 – As our fundraiser has now come to an end, Enfield Grammar School would like to thank all those who donated; your generosity is truly outstanding. You raised £925 !!!
Next week we will be moving to the next phase by purchasing items, creating hampers and distributing them. Any unused funds will then be donated to a similar Enfield-based charity. Best wishes to all.
November – As a School Community we're fundraising to purchase some festive food items to create some delicious Hampers for families within our Community that would really benefit from a little support over the Christmas period. Please join us in making a difference. Click image to go to our GoFundMe page;  http://gf.me/u/y9fa8m
With the monies that we raise we will purchase the food and our boys will pack and decorate the Hampers so that they are ready to be delivered in the final week of term.
Please give generously. Every donation will help. Any money left over will be donated to one of Enfield based charities that are doing a similar thing but across the whole Borough. Thank you in advance for your contribution to this cause.
---
False Moustache Day – Lower School – £228.64 raised – Lower school raising awareness and money for the Movember charity on Friday November 27th
---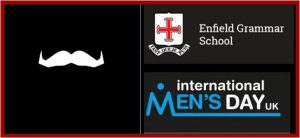 International Men's Day, Movember & EGS – £1720.02 raised – We will be holding a non-uniform day on Thursday 19th November, collecting £2 donations from the students on behalf of Prostrate & Testicular Cancer UK charities.
We are pleased to announce that our boys raised £1720.02 during non-school uniform day in honour of International Men's Day. All monies raised will be donated to Prostrate & Testicular Cancer UK charities. Thank you – absolutely fantastic!