The school ethos and the motto of "Tant Que Je Puis" exists to enable our students to achieve the best they can and, therefore, have the opportunity of learning at least one foreign language, regardless of academic ability in an inclusive and collaborative way.
We aim to enthuse our students for languages and ignite their curiosity about the wider world and different cultures. We endeavour to broaden our students' horizons  through our teaching of core concepts, foundational and new knowledge. We firmly believe that a greater understanding of other countries, diversity and cultures can breed tolerance, empathy, adaptability and consideration for others, as well as a willingness to overcome communication barriers.
By studying languages, our students will discover the skills and the confidence they need in order to flourish in our global, diverse and multicultural society.
The department has written its own schemes of learning to cover a wide range of topics, incorporating the 4 skills (Speaking, Reading, Writing and Listening).
Years 7 to 9
All students start Year 7 learning French. In Year 8 students continue studying French and start Spanish. In Year 9 they study both languages. 
In Key Stage 3 (Year 7-9) students will learn to talk and write about: 
themselves and others, 

where they live, 

school, 

likes, dislikes, hobbies and free time,

technology, the internet and social network,

holidays and discovering new cultures, 

healthy lifestyles and well-being, 

what is important to them and the world of work
We follow AQA GCSE specification. Students are assessed on 4 papers at the end of the 2 year course. All students have covered the 3 themes in Year 7 & 8 but start studying in depth from Year 9. Structure of assessment (25%) for each;
Paper 1: Listening
Paper 2: Speaking
Paper 3: Reading
Paper 4: Writing
Years 10 to 11
We currently offer French and Spanish as GCSE options. In years 10-11 students study their chosen language or languages in more depth, covering 4 skills and 3 themes
GCSE Skills
Structure of assessment (25%) for each;
Paper 1: Listening

Paper 2: Speaking

Paper 3: Reading

Paper 4: Writing
GCSE Themes:
Theme 1: Identity and culture
Me, my family & friends (relationships with family/friends, marriage/partnerships)

Technology in everyday life (social media, mobile technology)

Free time activities (music, cinema and TV, food and eating out, sport)

Customs and festivals in French/Spanish speaking countries/communities
Theme 2: Local, national, international and global areas of interest
Home, town, neighbourhood and region, community projects

Travel and tourism.

Social issues (charity / voluntary work / healthy/unhealthy living)

Global issues (the environment / poverty / homelessness)
Theme 3: Current and future study and employment
Life at school / college

Education post-16 , jobs, career choices and ambitions
Further information: AQA GCSE French (8658)
Further information: AQA GCSE Spanish (8598)
We follow the AQA A Level specification.  This assesses the students with 3 exam papers;
Paper 1 – Listening, reading, writing (40%)
Paper 2 – Essay Writing (30%)
Paper 3 – Speaking (30%)
Year 12
Social issues and trends: Aspects of society – The changing nature of family  / The 'cyber-society'  / The place of voluntary work
Artistic culture: Heritage, culture & tourism / Music & Cinema
Aspects of political life: Teenagers, the right to vote and political commitment /Demonstrations, strikes /Politics and immigration
Year 13
Aspects of society, current issues: Positive features of a diverse society / Life for the marginalised / How criminals are treated
Literary text and films: Students must study either one text or one film from a list set by the exam board (studied over 2 years)
Individual research project: Students identify a subject or a key question which is of interest to them and which relates to a country or countries where the language is spoken. They present and discuss their research and findings in the speaking assessment
Further information: AQA A Level French (7652)
Further information: AQA A Level Spanish (7691)
Home Languages
In addition to our regular languages offer, our students can sit exams in their home languages that they might be studying outside of school, for example GCSEs OR A-Levels  in Polish, Italian, Mandarin or in Turkish.
---
The International School Award 
At EGS, we are absolutely delighted to receive The International School Award 2021 in recognition for all the hard work of both our dedicated staff in setting up projects with an international dimension and our students for actively participating in the activities.
A great amount of projects are now well established and strongly embedded in our rich curriculum offered to students at EGS across all subjects.
This award recognises the great work that we all have achieved over the years, such as: The International Book Day, the Language Clubs, our Foreign Language Assistant Programme with the British Council, EGS Concert Tour abroad, MFL trips, Exploring International Food & Cuisine, to name but a few.
This award gives us the impetus, as a school in our rich multi-ethnic community, to explore further and set up more projects and new initiatives for our boys to enjoy fully their learning experience in the years to come.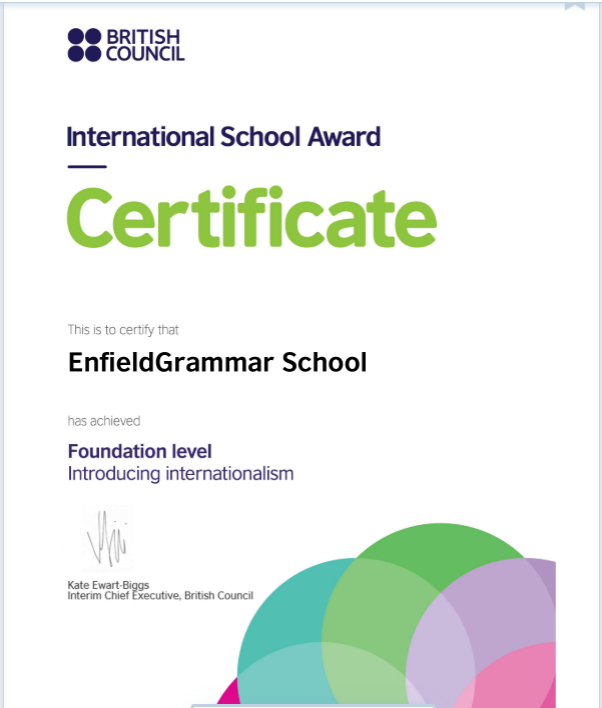 What is the International School award?
The International School Award rewards schools that have shown a commitment to embedding international awareness and understanding within their class or school. 

The British Council encourages this by supporting schools in completing collaborative, curriculum-based work with a number of international partner schools, involvement of the wider community.

As an International School Award journey continues, the school will learn of new ways to develop and embed international education into their school.

The International School Award is available in 16 countries and is well-regarded by school inspection bodies and ministries of education globally. 
https://www.britishcouncil.org/school-resources/accreditation/international-school-award
: