The MFL Department is a very successful department with excellent exam results. Languages (French / Spanish) is a popular choice for boys when picking their GCSE options.
The Department is committed to the teaching of languages in order that our boys will be equipped with the skills and ideology needed to live and succeed in a multicultural and international society.
Learning a language is even more important now as the UK has exited the EU and will have to renegotiate trade and relations at all levels, not only between it's close neighbours, but also with the rest of the world. In an increasingly competitive job market, our students will need to earn their place alongside highly skilled workers from abroad who all have English as a second language. We firmly believe that, in the 21st century, it is no longer acceptable or practical to be monolingual.
We aim to enthuse our students for languages through stimulating and challenging lessons delivered through a wide variety of teaching and learning styles, which we are continually seeking to develop. Emphasis is placed on the spoken language and building up students' confidence to enable them to use and enjoy using the foreign language. We aim at developing our approach to the improvement of communication, social and grammatical skills which are essential if our students are to leave Enfield Grammar with the confidence to manipulate the written and spoken word for their own pleasure and purpose in the future.
The school ethos and the motto of "Tant Que Je Puis" exists to enable the boys to achieve the best they can therefore, our students have the opportunity of learning at least one foreign language, regardless of academic ability.
There are also various clubs (French, Spanish or German) for students to attend. The teaching of foreign languages offers endless opportunities for cross-curricular links and the employment of diverse teaching methods to cater for the learning needs of all students.
A range of trips are offered, both day trip and residential visits that support and reinforce the work undertaken in the classroom. The teachers in the MFL have experienced for themselves the benefits of language learning and foreign travel.
We endeavour through our teaching to broaden our students' horizons and raise their own expectations. We firmly believe that a greater understanding of other countries and cultures can breed tolerance, empathy, adaptability and consideration for others, as well as a willingness to overcome communication barriers.
The department has written its own schemes of learning to cover a wide range of topics, incorporating the 4 skills (Speaking, Reading, Writing and Listening).
Year 7
Phonics, alphabet, greetings and numbers
Introducing oneself, family, friends, pets, where you live
Talking about school and school life
Talking about food and drinks
Talking about hobbies, technology and sporting activities
Talking about places in town
Year 8
Talking about media and social media
Talking about holiday and travel
Talking about house & home
Talking about shopping for clothes and food
Talking about events & festivals
Year 9
GCSE Theme 1: Identity and culture
Me, my family & friends (relationships with family/friends, marriage/partnerships)
Technology in everyday life (social media, mobile technology
Free time activities (music, cinema and TV, food and eating out, sport)
We follow AQA GCSE specification. Students are assessed on 4 papers at the end of the 2 year course. All students have covered the 3 themes in Year 7 & 8 but start studying in depth from Year 9. Structure of assessment (25%) for each;
Paper 1: Listening
Paper 2: Speaking
Paper 3: Reading
Paper 4: Writing
Year 10
GCSE Theme 1: Identity and culture
Customs and festivals in French/Spanish speaking countries/communities
GCSE Theme 2: Local, national, international and global areas of interest
Home, town, neighbourhood and region, community projects
Travel and tourism
Year 11
GCSE Theme 3: Current and future study and employment
Life at school / college
Education post-16 , jobs, career choices and ambitions
GCSE Theme 2: Local, national, international and global areas of interest
Social issues (charity / voluntary work / healthy/unhealthy living)
Global issues (the environment / poverty / homelessness)
Further information: AQA GCSE French (8658)
Further information: AQA GCSE Spanish (8598)
We follow the AQA A Level specification.  This assesses the students with 3 exam papers;
Paper 1 – Listening, reading, writing (40%)
Paper 2 – Essay Writing (30%)
Paper 3 – Speaking (30%)
Year 12
Social issues and trends: Aspects of society – The changing nature of family  / The 'cyber-society'  / The place of voluntary work
Artistic culture: Heritage, culture & tourism / Music & Cinema
Aspects of political life: Teenagers, the right to vote and political commitment /Demonstrations, strikes /Politics and immigration
Year 13
Aspects of society, current issues: Positive features of a diverse society / Life for the marginalised / How criminals are treated
Literary text and films: Students must study either one text or one film from a list set by the exam board (studied over 2 years)
Individual research project: Students identify a subject or a key question which is of interest to them and which relates to a country or countries where the language is spoken. They present and discuss their research and findings in the speaking assessment
Further information: AQA A Level French (7652)
Further information: AQA A Level Spanish (7691)
The International School Award 2021
At EGS, we are absolutely delighted to receive The International School Award 2021 in recognition for all the hard work of both our dedicated staff in setting up projects with an international dimension and our students for actively participating in the activities.
A great amount of projects are now well established and strongly embedded in our rich curriculum offered to students at EGS across all subjects.
This award recognises the great work that we all have achieved over the years, such as: The International Book Day, the Language Clubs, our Foreign Language Assistant Programme with the British Council, EGS Concert Tour abroad, MFL trips, Exploring International Food & Cuisine, to name but a few.
This award gives us the impetus, as a school in our rich multi-ethnic community, to explore further and set up more projects and new initiatives for our boys to enjoy fully their learning experience in the years to come.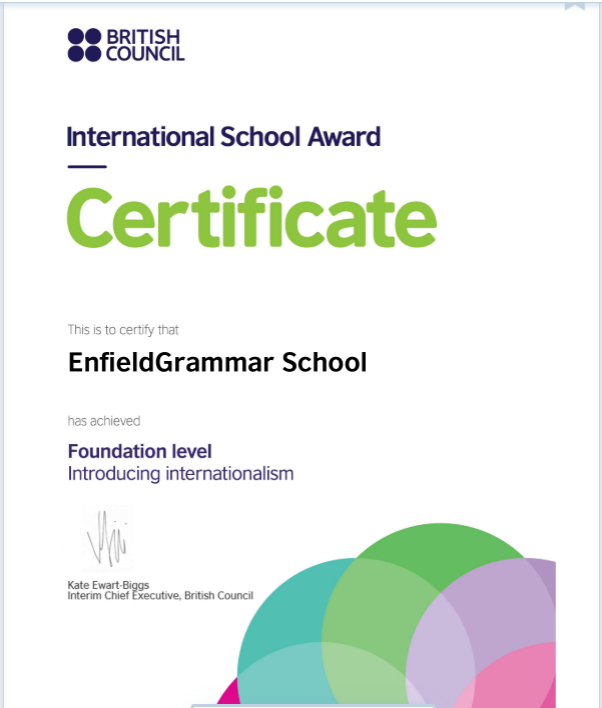 What is the International School award?
The International School Award rewards schools that have shown a commitment to embedding international awareness and understanding within their class or school. 
The British Council encourages this by supporting schools in completing collaborative, curriculum-based work with a number of international partner schools, involvement of the wider community.
As an International School Award journey continues, the school will learn of new ways to develop and embed international education into their school.
The International School Award is available in 16 countries and is well-regarded by school inspection bodies and ministries of education globally. 
https://www.britishcouncil.org/school-resources/accreditation/international-school-award
: