Sir Jack Petchey CBE created the Jack Petchey Foundation to inspire young people and recognise the amazing contributions they make to society. To do this the Foundation has invested over £124m in programmes that benefit young people aged 11-25 across London and Essex.
Jack Petchey Achievement Award winners are young people who have gone above and beyond to achieve – perhaps when others thought they might fail. Awards mean different things to many people.
Each year, the Jack Petchey Foundation recognises over 12,000 Award winners and invest £3.5m through the Achievement Award scheme.
---
The Jack Petchey Achievement Gold Award
Enfield Grammar are fortunate to be recognised as Gold Award winners
Enfield Grammar have been a proud member of the Gold Award for many years with over 150 students receiving recognition for their outstanding achievements and endeavour
Nine students a year are recognised for their efforts in and out of school
The Achievement Awards are not solely for academic achievement – they are used at EGS to recognise a personal triumph for someone who has faced a challenge, a young person who has pushed themselves outside of their comfort zone or it may be an opportunity to recognise the outstanding efforts of a team player.
How can a student at EGS receive the award?
A young person is nominated by their peers or staff in their school or youth organisation.
An important part of the scheme is the involvement of young people in selecting the award winners for their hard work and efforts.
We as a school want young people to recognise and celebrate the success of their peers.
Each year our Jack Petchey Co-ordinator has the opportunity to nominate nine students to receive the Gold Award
These students are nominated by their peers, Heads of Year or members of the school's pastoral team.
What do students who are nominated get?
Each award winner receives a certificate, pin badge and a paper booklet from Sir Jack himself. They will also choose how to spend a £250 grant to benefit their school or organisation.
This money is spent for the benefit of all such as playground equipment, extra curricular musical and sports equipment as well as to support out of school trips and rewards
All award winners are invited to attend a local ceremony in Enfield to be presented with a medallion in front of their families, friends and VIPs.
---
Gold Award Winners 2019/2020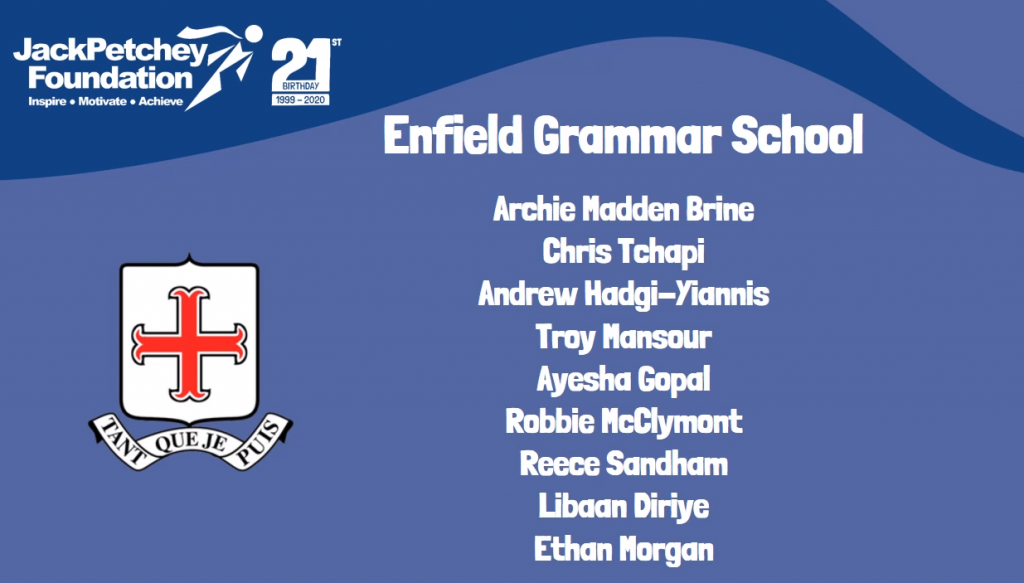 Congratulations to all of our students named above for their achievements.