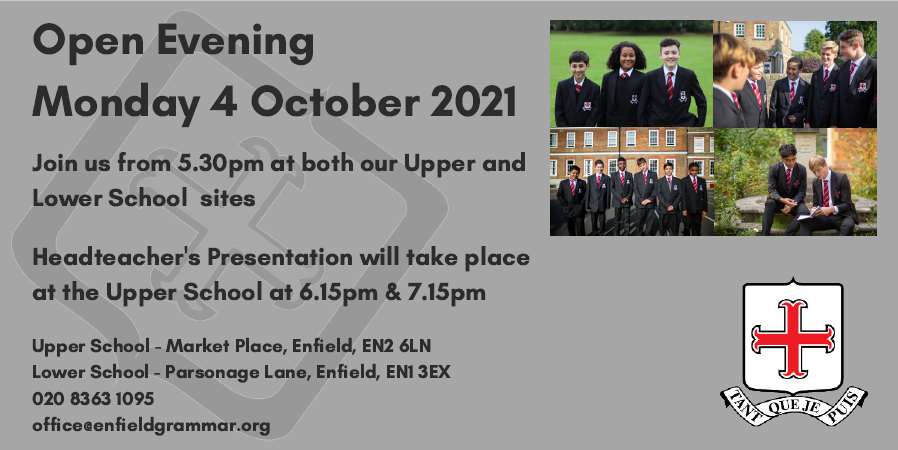 The closing date for applications to be returned to the Borough is 30th October 2020
---
Last year we held an Online Open Evening on Monday 5 October 2020 to showcase what our School has to offer students.
| | |
| --- | --- |
| What after school clubs do you run? | We talk to the student council to see what they want but currently we have sports and music clubs, debating, philosophy, Bee Keeping (coming soon) and more - see our page on the website: EGS Community - Extra-Curricular - School Clubs |
| Do you punish students if they are late to school? | We monitor and yes, we do if it's becoming a problem. The boys do a late detention. |
| Are students allowed a mobile phone? | NO smart phones are allowed by students from 7-11, but students can have a "brick phone" |
| How many BAME staff do you have? | 15% of our staff are BAME |
| How much is the food at the canteen? | The meal deal is currently £2.40 |
| What do you do about bullying? | We deal with it immediately. It happens that boys sometimes don't get ion but we do not tolerate anybody being made to feel sad, unhappy or scared to be at Grammar. |
| What's the ethnic mix of your student body? | Roughly and without breaking the largest 3 groups down into sub groups it's 30% Turkish, 30% Black, 30% white 10% other |
| Do you have to be excellent at sport to go to grammar? | No , not at all, We do expect all boys to take part in PE weekly but that's our focus on healthy bodies and healthy minds. ALL levels of sporting ability are welcome and encouraged. |
| What lessons do the boys get taught in year 7? | The basics - English, Maths, Science, Geography, History, Art, Music, PE, Technology, Languages, Business, Food Tech, |
| Is there any bullying? | We have incidents of bullying / meanness that we do not tolerate and we deal with promptly. |
| What does the tutor do at Grammar? | The tutor is the person that sees the boys at the start and the end of each day. They are the ones that the boys should see as the trusted member of staff that they can share their concerns or issues with. They are the initial contact for parents/carers as they are the first level of pastoral care that we offer at EGS. |
| Why do you not set by ability? | We believe mixed ability teaching in most areas allows all to flourish if the teacher pitches the work at the right level. We have spent lots of training sessions talking about teaching to the top and not to the middle. This generates stretch and challenge that all boys benefit from. |
| What about boys that don't want to go to university? | Boys receive lots of careers advice as they progress through the school and we aim for all boys to have lots of choices at the end of year 11 and/or 13. We have had a number of boys that have gone on to careers, apprenticeships and other forms of training as we know university isn't for everybody; our aim is for boys to have choices. |
| What was the furthest distance for someone who got in? | That's difficult because we do have boys from outside the Borough come to us via the scholars places and also our 5% that we offer to outside Enfield Schools. |
| If you have a brother at the school already do you automatically get in? | Yes |
| What are the benefits of a sport and music scholar? | The initial benefit is you get a place in the school irrelevant of where you live if you are selected through the scholar route. You then have lots of opportunities to play for our sports teams, bands and in concerts and you will receive mentoring and coaching from older scholars. |
| Do you have any non-competitive sport opportunity? | Yes. Lots. We have a fantastic fixture list for rugby, football and cricket taking our boys to all parts of London and the South East. We even have an annual Cricket match against the MCC. |
| What GCSE options do you have? | Art, Business, Citizenship, Computer Science, I-Media, IT, Design and Technology, Food and Nutrition, French, Geography, History, Media, Music, PE and Spanish. |
| Do you do a three science option? | No, we don't at the moment. We run the Combined Science course which prepares the boys well for A-level as it is the quality of the science that is important not the quantity. Students have gone on to Medicine, Biochemistry, Engineering etc with the excellent results they achieve. |
| My son is half way through an EHCP application - what support is there? | Lots of support to help with an EHCP application. If we think an EHCP is appropriate we will begin this process with you. |
| Do you cater for allergies? | Yes. We have lots of boys that have allergies and all this information is stored and our catering team makes all adjustments to ensure all boys can have a hot meal whilst at school. |
| What subjects can you do at sixth form? | Geography, Computer Science, English Literature, Chemistry, Philosophy and ethics, Finance, DT, Government and Politics, French, Music, Art, Economics, Physics, Psychology, Maths, Music Technology, PE, Biology, Media, BTEC Science, BTEC Business, BTEC Sport, BTEC IT. |
| Who is the first point of contact? | We hope that your son's tutor is the first port of call but if you can't get them during the school day, you can email them, or talk to one of our office staff if there is an emergency. |
| OFSTED stated that form time is not used effectively - what changes have you made since the report? | We really prioritised this by putting it into the school day at the start and at the end of the day. We really feel a strong pastoral curriculum is vitally important for boys and we feel they need to see their tutors twice in one day so that they have someone to share their worries with that isn't necessarily one of their teachers. |
| How do you manage behaviour and do you use exclusion? | We have a very clear behaviour system to be used by teachers in lesson time that gives boys warnings and allows them to modify their own behaviour before they are given a sanction. If they do not modify then they will receive detentions and can eventually be excluded from school if their poor behaviour continues. |
| Does the double science affect students' options of university courses? | No not at all. It is the quality of the science that is important not the quantity. Students have gone on to Medicine, Biochemistry, Engineering etc with the excellent results they achieve. |
| Do you have links with any of the feeder primaries? | We have links with our 7 main feeder schools and we do visit a number of our other feeder schools. Last year we had over 50 feeder schools which makes forming strong links difficult but we do try! |
| How do you ensure there's discipline in lessons? | We develop our teachers to be better teacher; to engage the boys by planning engaging activities. We also have a clear system of Learning reminders that mean the boys have the opportunity to modify their behaviour before they get a sanction |
---
Key Information Presentation 2020-21
Below is a presentation delivered by our Deputy Headteacher and Assistant Headteacher, which will provide key information on the following:
School Day – Structure and Lessons
Extra-curricular
Clubs and Activities
Pastoral Support
Expectations
Rewards
Student Voice
---
SCHOOL TOURS
We are offering some limited school tours of our Lower School Site by appointment only. Please contact the School on 020 8363 1095 for further details.
---
EGS Short Trailer
---
In 1558 the school opened to teach the young of Enfield to read and write.
In 2019 Grammar was in the top 4 schools in Enfield for boys' progress and a number of our young men went to Oxbridge.
In 2020, for the 4th consecutive year, our GCSE results again improved and the school, with all its staff, united as a community to support each other through the global pandemic.
---